I've been MIA. There's no way around that. As you know, life can easily get in the way, even if it's things we love. But after a while I really felt something was missing. I've hardly read, and I definitely haven't done any personal writing. I've thought long and hard about this space. I've considered stopping blogging. (For all intents and purposes, I'm sure it's seemed like I've stopped.) But at the end of the day, I've always concluded that, while I'm not certain what I want to do here, I know I want to be here. So here I am…
Over the next month or so, I plan to spend some time thinking through my goals – for my life and this blog. Then spend some more time determining what I'll post about here.
In the meantime, I wanted to just chat about some book-related things.
Mission: Book Buying Binge 2.0
Over the last couple of months I've gone on a massive book buying binge. It started over the summer with books from a few random places and has continued through September with a large haul from my local Friends of the Library sale.
Bird statue will not look you in the eye!
Books from misc. sources (from the top): Dust Tracks on a Road by Zora Neale Hurston; How to Be Alone by Jonathan Franzen; The Tools by Phil Stutz and Barry Michels; Guns, Germs and Steel: The Fates of Human Societies by Jared Diamond; The Last Kind Words by Tom Piccirilli; The Price of Civilization: Reawakening American Virtue and Prosperity by Jeffrey D. Sachs; Roger Williams and the Creation of the American Soul: Church, State and the Birth of Liberty by John M. Barry and Zealot: The Life and Times of Jesus of Nazareth by Reza Aslan
Oh, so happy with these new kids' books!
Kids' books from various places (from the top): A Wind in the Door by Madeleine L'Engle, The Little Prince by Antoine de Saint-Exupéry, Nim's Island by Wendy Orr, Pinocchio by Carlo Collodi, Peter Pan, Little Women by Louisa May Alcott, The Secret Garden by Frances Hodgson Burnett and The Story of Jonah
Put a purple pumpkin on it!
From my $5 bag at the library book sale (from the top): May Your Days be Merry a Bright: Christmas Stories by Women, Food Rules: An Eater's Manual by Michael Pollan, Checklist for Life for Moms, Accordion Crimes by E. Annie Proulx, Let the Great World Spin by Colum McCann, The Color of Water: A Black Man's Tribute to His White Mother by James McBride, Animal Dreams by Barbara Kingsolver, The Bean Trees by Barbara Kingsolver, A Heartbreaking Work of Staggering Genius by Dave Eggers, The Midwest, Caleb's Crossing by Geraldine Brooks, To America: Personal Reflections of an Historian by Stephen E. Ambrose and 2013 Writer's Market

A little easel love for this lovely book for the lovely Claire!

Butterflies in the Garden by Carol Lerner
Checked Out & Checking Out
Now, to books I'm only borrowing.
Touched by the fall berry bush!
From the top: Fingersmith by Sarah Waters, The Vanishing by Wendy Webb, Miss Peregrine's Home for Peculiar Children by Ransom Riggs and Rooms by Lauren Oliver
AND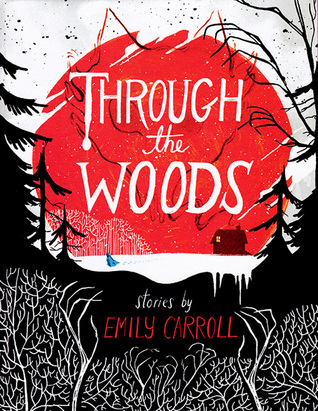 Just a straight-up beautiful cover!
Through the Woods by Emily Carroll
I'm reading The Vanishing first. It's a great book that seems to be resetting my reading rut. I'm not certain what I'll read next, but, based on cover alone, it might have to be Through the Woods. 
What books have you bought recently? What are you currently reading?