And all goes well. At work at least. Home's not terrible, but the transition hasn't been smooth. Laundry is piled high. As are the dishes.
My first day back at work was Monday the seventh. I woke up nervous but excited for my new opportunity. But Claire, well, that little sweetheart woke up with a barky cough. Nick wasn't much better after pinching a nerve between his neck and shoulders on Saturday.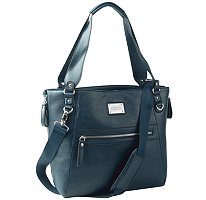 Nick immediately announced that he would stay home with Claire, so I got ready and headed off for my first day. My day went well, and Nick sent me a text that Claire felt better and was at daycare. And–good news–he had an interview at 3:00 (turned out to be a questionable interview). Day one down and things are OK.
Then day two dawned and Nick was feeling some cold-like symptoms. He stayed home by himself, and I came home after work and provided all the child care while Nick slept. Day 3 and Nick went to the doctor–ear infection, etc. He was prescribed some meds and felt pretty good after one dose.
Thursday and Friday went smoothly–that is except the car fire on the highway (not my car) that made me late by a couple minutes. But then Nick picked Claire up from daycare, and we learned that she had been misbehaving all week, requiring more attention from our provider who was now requesting $5 more a week–extortion! What bothered me most about this (besides someone saying bad things about my kiddo–the nerve!) is that she hadn't indicated an increase in bad behavior all week. Claire usually has a time out or two a day, and we're working on the behaviors that lead to them, but I hadn't heard that things were getting worse. That's a communication issue that we need to work on. (I'll share more about this later.)
As upset as that made me, I felt better when I got home and saw two bottles of wine and a dozen pink roses waiting for me on the counter. Three glasses later and the problems of the world no longer bothered me.
Rolling around to week two and Claire woke up crying on Tuesday morning. Her right ear hurt her badly, so I brought her into our bed. Thirty minutes later and she threw up on the bed. Nick stayed home with her again, and took her to the doctor. She had a rough day, but she started perking up around 8 p.m. (and still went to bed on time!!).
The last few days of the week have actually gone smoothly. Claire's behavior is improving (also more on that later), I've made it to meetings on time (and even early), and most of the dishes are clean. I have no doubt that we will continue to have struggles, and that being a working mom again won't be easy, but I'm happy about working and having the wonderful family that I have. I'm blessed!