If you haven't already done so, please get out and vote today. It really is an important right in our country.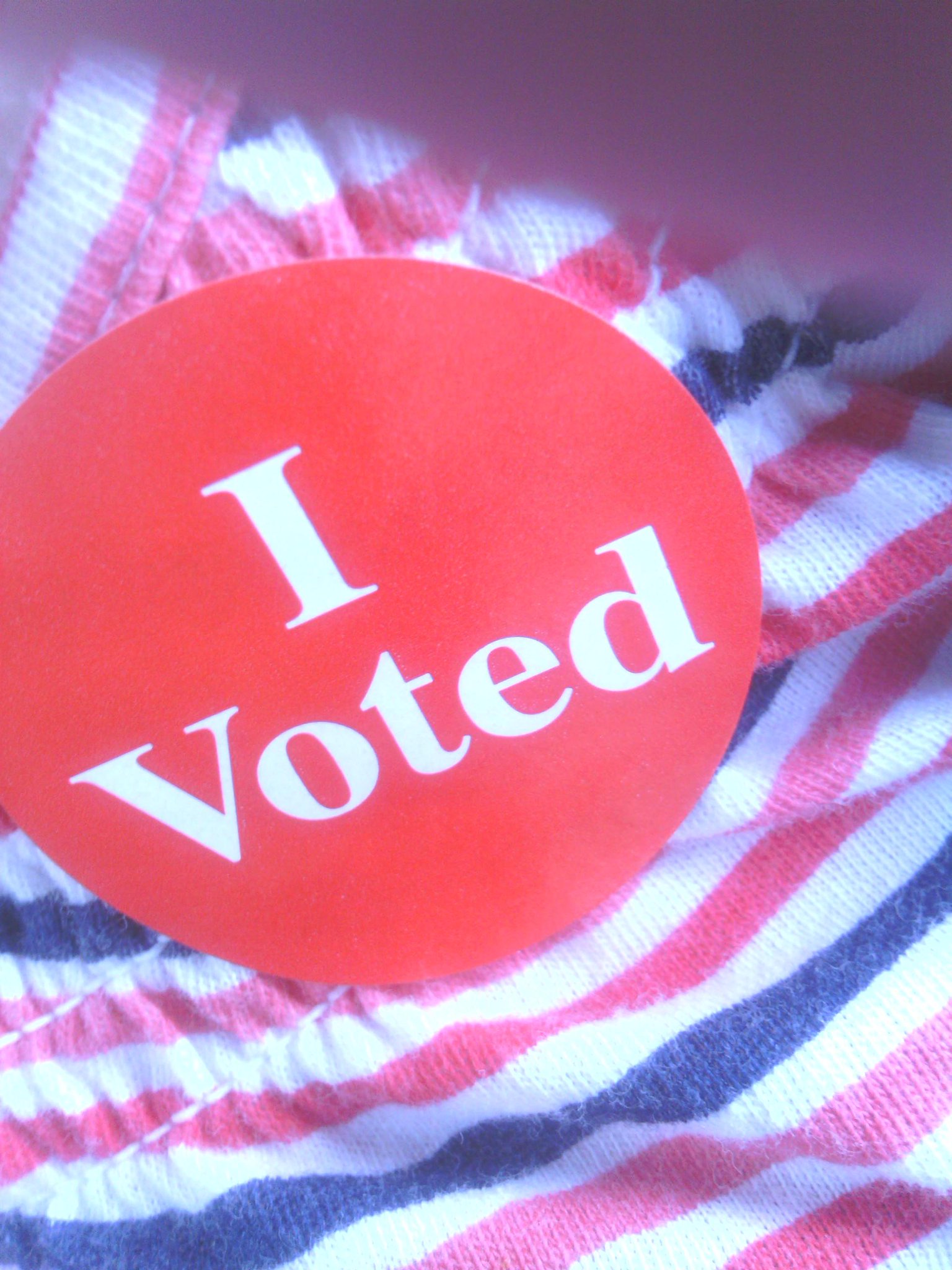 As a child I recall waiting outside the small, one-room schoolhouse that served as our precinct's voting location. For some reason, just the image of my younger brother and I sitting on a blanket on the grass as our Mom went inside to vote has stood out in my mind. It's probably impacted my desire to vote, so I made sure to bring Claire with me today. I dressed us both up in red, white and blue: she is in a navy, red and white Minnesota Twins polo dress and I in a red, blue, white and coral striped top with a blue cardigan over top. Claire sat very nicely looking at her birth of America book while I registered at the polls and then voted in the "booth." We both proudly wore our "I Voted" stickers as we participated in Toddler Tuesday at the Mall of America. And tonight, we'll join Nick again at the fire station that serves as our precinct's polling place. The fire station might not be the same as a one-room school house, but she can see the fire trucks parked in the garage below the community room!
We all know that Twitter has taken over as one of the top social mediums for people across the world, which makes checking Twitter on big days like this, very interesting. Here are the best Tweets I found:
@Paul McCartney: Paul McCartney sends his support to @BarackObama
Barack Obama has support in high places. It's too bad Sir Paul can't vote here.
 Harry Potter @GobletOfTweets: Mitt Romney is the Muggle version of Dolores Umbridge.
LOL!
 Gabe Ortiz @TUSK81: If you waited three hours in line to go see "The Avengers," you can wait 30 minutes to vote. Do it.
Replace "The Avengers" with "Twilight" or "go see "The Avengers"" with "score big deals on black Friday" and it would still be true.
 @TomBradysEgo: Breaking: Tony Romo went to cast his ballot this morning and that got intercepted and return for a touchdown.
LOL, again!
 @BorowitzReport: My prediction: the Obamas will return to the White House and the Romneys will return to 1954.
If only, Andy, if only.
 @mindykaling: "I guess being able to vote is kind of an American humblebrag." said the insufferable first date guy, somewhere, this evening.
I love Mindy Kaling. She gets one final LOL from me.